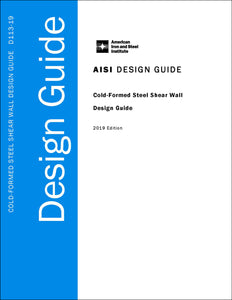 This design guide provides a discussion of steel sheet and wood structural panel sheathed, cold-formed steel framed shear wall assemblies used to resist wind and seismic forces. It also provides design and detailing examples based upon the 2015 International Building Code; AISI S240-15, North American Standard for Cold-Formed Steel Structural Framing; and AISI S400-15w/S-16, North American Standard for Seismic Design of Cold-Formed Steel Structural Systems With Supplement 1.
Determination of the wind or seismic force transmitted to the shear wall assembly and its components and determination of the shear wall assembly's available strength are illustrated for five different shear wall and design load conditions. Detailed shear wall component design is performed for several examples.
This design guide updates and replaces the Cold-Formed Steel Engineers Institute (CFSEI) publication titled: "Cold-Formed Steel Framed Wood Panel or Steel Sheet Sheathed Shear Wall Assemblies."
View the:
Table of Contents
No refunds can be issued on digital publications due to the inability to recover the document once it is provided. Please do not duplicate and distribute this document.