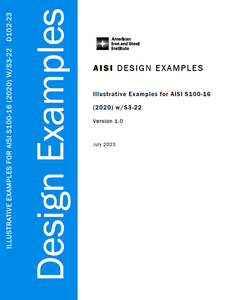 ELECTRONIC DELIVERY METHOD:
The electronic version of this document will be placed in a Dropbox folder and the purchaser notified via email when it is available for downloading. Please be sure to include an email address with your order. Documents are prepared M-F during regular business hours. Please allow 24-48 business hours for delivery.
AISI D102-23 provides a set of design examples that illustrate the design provisions published in AISI S100-16(2020)w/S3-22, North American Specification for the Design of Cold-Formed Steel Structures, 2016 Edition (Reaffirmed 2020) with Supplement 3, 2022 Edition. The examples are developed using the software Smath Studio and can be accessed online or downloaded.
Please also note that purchasers of this publication must agree to our End User Licensing Agreement. Please read before purchasing!