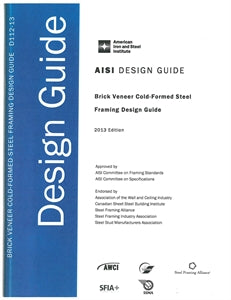 This guide has been prepared to assist practicing structural engineers and architects in the design of brick veneer anchored to a backing of cold-formed steel framing for commercial and high-rise residential buildings. In this design guide, the relevant structural and building science principles are reviewed. General guidelines for the detailing of these walls are provided, along with specific structural design recommendations. Design examples covering various elements of the system are also included. The provisions in this guide may be overly conservative for low-rise residential buildings. 

This publication updates CF03-1, "Steel Stud Brick Veneer Design Guide," which was published in 2003. It is endorsed by the Association of the Wall and Ceiling Industry, Canadian Sheet Steel Building Institute, Steel Framing Alliance, Steel Framing Industry Association, and Steel Stud Manufacturers Association. 

Please also see the companion document: D110-07 – "Cold-Formed Steel Framing Design Guide, Second Edition."
An electronic version of this document is available for purchase here.